WHAT IS THE DARK WEB?
HOW DID THIS HAPPEN?
HOW CAN I PROTECT AGAINST IT?
ARE WE A TARGET NOW?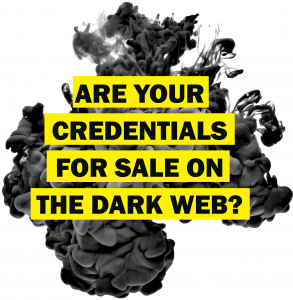 What is the DarkWeb?
The Dark Web is a hidden universe contained within the "Deep Web"- a sub-layer of the Internet that is hidden from conventional search engines. Search engines like Google, BING and Yahoo only search .04% of the indexed or "surface" Internet. The other 99.96% of the Web consists of databases, private academic and government networks, and the Dark Web. The Dark Web is estimated at 550 times larger than the surface Web and growing. Because you can operate anonymously, the Dark Web holds a wealth of stolen data and illegal activity.
We can help protect your organization with DarkWeb Monitoring
Our service is designed to help both public and private sector organizations detect and mitigate cyber threats that leverage stolen email addresses and passwords. Dark Web ID leverages a combination of human and artificial intelligence that scours botnets, criminal chat rooms, blogs, Websites and bulletin boards, Peer to Peer networks, forums, private networks, and other blackmarket sites 24/7, 365 days a year to identify stolen credentials and other personally identifiable information (PII).
IF YOUR PERSONAL DATA IS FOUND ON THE DARK WEB, CAN IT BE REMOVED?
Once the data is posted for sale within the Dark Web, it is quickly copied and distributed (re-sold or traded) to a large number of cyber criminals, within a short period of time. It is generally implausible to remove data that
has been disseminated within the Dark Web. Individuals whose PII has been discovered on the Dark Web are encouraged to enroll in an identity and credit monitoring service immediately.
DOES THE IDENTIFICATION OF MY ORGANIZATION'S EXPOSED CREDENTIALS MEAN WE ARE BEING TARGETED BY HACKERS?
While we can't say definitively that the data we've discovered has already been used to exploit your organization, the fact that we are able to identify this data should be very concerning. Organizations should consult their internal or external IT and/or security teams to determine if they have suffered a cyber incident or data breach.
Wouldn't you like to find out if your Credentials
are Exposed on the DarkWeb?
You might be surprised what we find.
Just fill out the form to the right and get a FREE SCAN!