Hackers Are Hunting For Vulnerabilities
In Your Systems CONSTANTLY.
Shouldn't You Be, Too?
A new approach to securing your data and network:
Keeping Visibility On Your BIGGEST Security Holes In Real Time– Have up-to-date assessments of cybersecurity within your network and get a report of how your cybersecurity stance has changed over time (show that vulnerabilities are actually getting fixed instead of slipping of your technician's plate).
Are Your Backups REALLY Tested?- We test to make sure your backups are working (test files using your proven process), look at backup configurations the way a hacker would and make sure your backups are working as expected (even in the cloud!).
Know Where Your Critical Data Is - We evaluate your data and track it so that you know exactly where everything important is and ensure nothing gets leaked.
Deep Dive Into User Behavior– We assess the cybersecurity hygiene of your users-- where they store their passwords, sensitive information, WiFi connections-- and alert them (and you) to why and how they can improve.
Complete Security Policy And Procedures Management – We enable you to track your security policies, procedures and disaster recovery plan in one place, integrated into a portal that also addresses your cybersecurity risks. We're the only solution that links your actual vulnerabilities to your network!
Affordable– We help organizations identify how to resolve issues without having to invest in additional staff, technology, or expensive training and cybersecurity assessments. We actually have a history of reducing cybersecurity costs within healthcare organizations by at least 31%.
No Geek Speak– You deserve to have your questions answered in plain English. Our security analysts will clearly explain what is happening so you understand at a high level and can communicate security concerns to your users in ways they will easily understand.
100% Satisfaction Guarantee– We want you to be completely satisfied with our services. We will do whatever it takes to make you happy. No hassles, no problems or your money back.
Network security should be a number one priority for businesses. With ransomware, hacks, attacks, vulnerabilities and data theft affecting companies all around the world on a daily basis, it's just a matter of time before your business is hit. Elliptic Systems' goal is to provide you with the best network security protection possible, while also keeping your unique needs and budget in mind.
Hacks & Attacks
These days, hackers, attackers, and even automated web bots are all trying to gain access to your network and ultimately access your private customer and business information. When successful, the attackers can lock down your data or worse they can release your customer information to the world.
With the sheer number of security threats faced by companies, it is important to continually evaluate the vulnerabilities that may affect your business. Lost revenues due to downtime or large fines due to data breaches may not be an option and could affect the overall health of the organization.
Internal Threats
Not only is it necessary to protect a network from outside threats but internal threats can also be a huge vulnerability. Part of a thorough network security plan is ensuring that employees are using best practices and are educated on their role in keeping the network safe.  82% of all breaches are from within the organization.  Cybersecurity Awareness Training should be one of the highest priorities.
Compliance
If you store customer data, private information, or take credit cards, network security is no longer an option, but instead is a necessity. Not to mention if you must adhere to HIPAA, SOC, or any other regulations, you need a team that understands these requirements and a team that can provide the pieces necessary to keep you compliant.
How Can We Help?
Protecting your information and your customers' data is Elliptic Systems' specialty.
Evaluate - We can evaluate your current network business environment.
Assess - We will provide a complete assessment of your overall security health.
Implement- Implement a complete security plan to provide a comprehensive security solution.
Our company is your Expert Leader in I.T. Security, contact us today for more information.  Simply fill out the form on the Right to get started protecting your most valuable asset, your companies data.
FREE 
CYBER CONSULTATION
Cybercrime is at an all-time high, and hackers are setting their sights on Small Businesses because they are "low hanging fruit." Don't become the next victim!
Are you sure you are doing the right things to protect your Firm? Your network?
Are you interested in improving your cybersecurity product offering?
Need some quick advice on how to secure your clients data?
Not sure what shortcuts your engineers are taking that are leaving you vulnerable?
Get a FREE

Cyber Consultation

with one of our security advisors and get answers to your most pressing cybersecurity questions.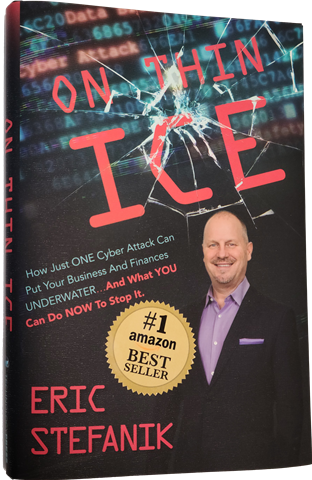 Request Your Copy Of
On Thin Ice